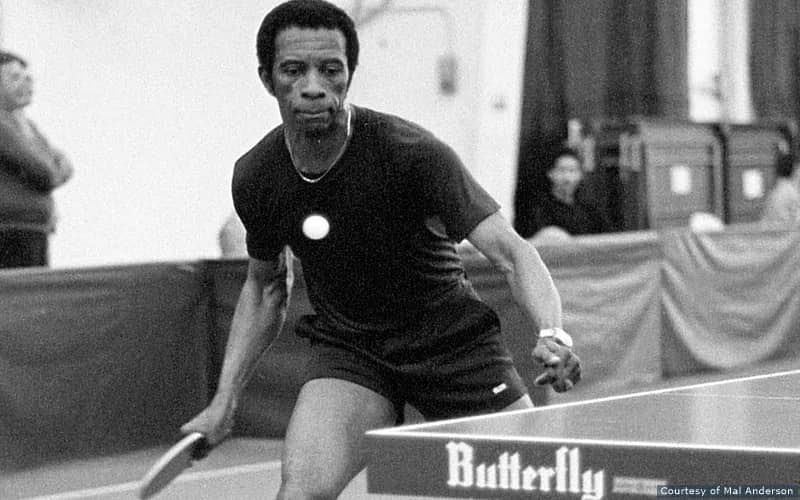 Ping pong legend George Braithwaite was honored on Roosevelt Island 10/23/2021
New Outdoor Ping Pong Tables on Roosevelt Island:
Official Dedication of the George Braithwaite Table Tennis Court
Honered the Life of Table Tennis Legend/Roosevelt Island Resident "The Chief" George Braithwaite
Was held on Saturday, October 23, 2021, 10 am-4 pm
Ceremony was held at 11:30 am
Roosevelt Island's Capobianco Fields's
Free Instruction and All-Day Play on Five Outdoor Tables
New York City, October 14, 2021 – We honored the extraordinary life and legacy of "The Chief" George Braithwaite, one of the legends of table tennis, at a ceremony on October 23 on Roosevelt Island, where he resided for many years. Born in Guyana (1934-2020), Braithwaite had an illustrious career in his sport. He was an original member of Nixon's "Ping Pong Diplomacy" team (1971), received the USATT Hall of Fame and Lifetime Achievement Awards, represented the US National Team in over 70 international championships, and was honored with the Sportsman of the Year Award from the US Olympic & Paralympic Committee (USOPC).
With the growing popularity of table tennis, exemplified by the success of PingPod locations across New York City, the thriving Spin ping pong clubs, and the constant presence of passionate players at outdoor tables such as those in Manhattan's Bryant Park, we are excited to announce the official dedication of three permanent stone ping pong tables at Capobianco Field. Additionally, we will unveil The George Braithwaite Community Service Award and Scholarship for high school seniors.
The ceremony, scheduled for October 23, will include a short program featuring memories, music, dance, poetry, and refreshments. Attendees will have the opportunity to enjoy complimentary play on the three permanent stone ping pong tables and two Butterfly tables generously donated for the day by PingPod. Professional coaches from PingPod will also provide free instruction throughout the event.
Organized by Thomas Hu, head of the American Youth Table Tennis Organization (AYTTO), which fosters competitive table tennis skills and sponsors The George Braithwaite Community Service Award, this event aims to honor "The Chief's" dedication to using table tennis as a means to promote peace, diversity, and equity. It is our collective responsibility to carry on his legacy and continue the work he started.
Event Details:
What: Official Dedication of The George Braithwaite Table Tennis Court and Service Award
When: Saturday, October 23, 2021, 10 am-4 pm *Ceremony starts 11:30 am
Where: George Braithwaite Table Tennis Court, Capobianco Field, Roosevelt Island, New York City
Admission: Free/RSVP Required (by New York State)
Sponsors: Joola, NYTTF, PingPod, Spin
About AYTTO:
The American Youth Table Tennis Organization (AYTTO) is a 501c3 non-profit dedicated to teaching table tennis, teamwork, and table tennis-related STEM to school-aged students. AYTTO has been running expert table tennis programs in NYC public middle schools since 2003, expanding to high schools in 2008 and elementary schools in 2017. It played a crucial role in making New York the only U.S. city where table tennis is recognized as an official varsity sport (2014). Over the past five years, close to 10,000 student-athletes from the Northeast region have participated in AYTTO programs and